3 Powerful Ways to Integrate Periscope with Snips Influencer Campaigns
Posted on Jul 22, 2016
0 Comments
With more than 10 million users, Periscope is among the most influential social media platforms and has become a powerful way for users to broadcast video live and interact with audiences in real time. The hype started well before it was officially released in 2015—and before it was bought by Twitter—causing a stir amongst social influencers and driving competing social networks, such as Facebook, to find ways to adapt to the new technology.
With Periscope, broadcasters and viewers communicate through live stream and comments, with the ability to share the video content later. Fans can share their love by sending "hearts" and broadcasters can engage followers all at once in a live stream to release big announcements, host special events, conduct product reviews and tutorials.
A handful of brands have successfully implemented Periscope into their marketing strategies. Periscope has been used to live stream concerts, host giveaways, run contests and release big news.
Doritos was the first to use it to promote a contest, which they called #DoritosRoulette across Twitter, Vine and Periscope. They used Periscope to do live giveaways for fans that tagged at least three friends on social media. This promotion helped Doritos tremendously in spreading the word about their new product launch.
There are also simpler ways to benefit from Periscope. For example, Adidas used the app to broadcast a press announcement and reach a wider audience. The press event itself was only 20 seconds long, but the extra effort to engage fans makes for a stronger marketing strategy.
With limited advertising capabilities, Periscope users (or "Scopers", as they like to be called) are seeking ways of monetizing their live streams and video content across their social network. Likewise, marketers are searching for new innovative ways of adapting this powerful social media to their influencer marketing mix. Snips makes it easy to integrate with Periscope, creating a powerful tool for measuring audience engagement and allowing brands and influencers to work together more efficiently.
Here are 3 ways Scopers can integrate Snips links with their live broadcasts to track audience engagement and monetize their video content across all social channels:
Personal Bio

Include a Snips link in your Periscope bio. The link can redirect followers to your personal website, blog, another social media, or any other content.

Video Sharing

Share your next Periscope video using Snips. Once you have finished broadcasting in the Periscope app, click "Share" and choose "Copy Link" to save it to your clipboard. Finally, paste the link into Snips to shorten and share it across all your social media channels. You can now track audience engagements and run branded advertisements in front of your Periscope videos everywhere.

Broadcast Titles

Share a link to your website, related content, or anything else in the broadcast title (where it reads "What are you seeing now?"). For example, if you are discussing a recent news article, you may choose to share a snipped link to that article within the title. When the Periscope video is announced on Twitter or shared by followers the Snips link is automatically embedded, thereby creating more opportunities for advertisements. Make sure to use a memorable tag in the title in order to yield the best results.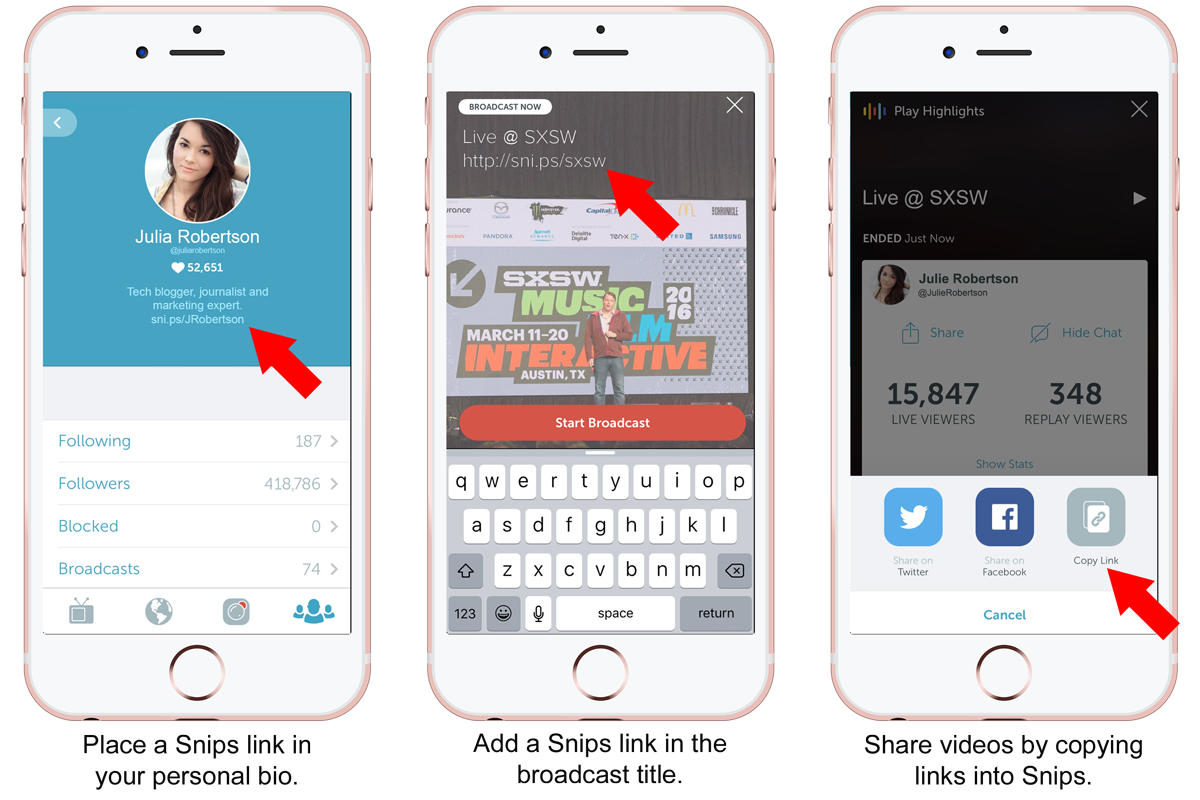 Now that we know how to integrate Snips links into Periscope broadcasts, we can develop a strategy for introducing branded campaigns to monetize your social network and video content. Here are 3 powerful ways in which Scopers can introduce Snips Influencer Campaigns into their live broadcasts:
Social Impact

Social Impact

campaigns place high-impact responsive advertisements in front of content shared by influencers across any social media. Scopers can share a snipped link to their broadcast on social media, or they may place a snipped link in the broadcast title or personal bio, as described earlier. Scopers earn revenue from each advertisement shown to visitors when they click on the link, before redirecting to the content.

Social Buzz

Promote a branded

Social Buzz

campaign by broadcasting a live product review or tutorial, then drive audiences to the product page using a Snips link. Scopers can place the Social Buzz link in their broadcast title, share it in comments during the live broadcast, or share it on their Twitter feed. Scopers earn revenue with each click-through on the Social Buzz link.

Social Sweeps

Run a

Social Sweeps

online contest or giveaway during a live product review to keep your audiences engaged and encourage participation. Place the Social Sweeps link in the video title so viewers can access it during the broadcast, or share it in the comments during a live broadcast. Scopers earn revenue with each completed signup in the Social Sweeps campaign.
There are many other ways to use Snips in your social network. We would love to hear how you are using Snips with other social media platforms! Visit Snips to learn more about the most powerful social media monetization tool.