Report: Facebook and Instagram Rank as Influencers' Favorite Platforms
Posted on Sep 01, 2016
0 Comments
As social media influencers wrestle with where to spend their time, new research shows Facebook and Instagram rank as their favorite platforms, followed by Twitter. And while some commentary seems surprised that Pinterest lags behind, considering its user base exceeds Twitter. The report however aligns with what our Snips team is seeming, due in part by Pinterest's limited engagement features.
In fact, while at BlogHer and interacting with many of today's top social influencers, Pinterest came up much less frequently and primarily when talking with food bloggers, a vertical the social channel continues to see strong success in. Consumers love to pin recipes, which ultimately turn into sales as they buy the food items and cooking tools to create their meals.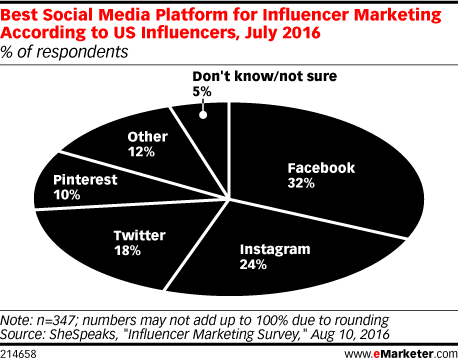 Beyond social platforms, we were thrilled to see that 96% of respondents said their experience working with brands was somewhat or very positive. And roughly three-quarters of influencers said they had been compensated for their work either via direct payment or product.
The report also ranked influencer marketing tactics based on their effectiveness:
Ongoing ambassadorships
Product reviews
Brand mentions
Event coverage
Sponsored coverage
Affiliate Links
All in all, it's clear that marketers are increasingly realizing the incredible value that influencers offer and are looking for new ways to work together to reach consumers and other end users.
Whether advertising or promotions, the success of influencer marketing depends on the quality of influencers and engagement by their social followers. Don't forget, to look beyond followers and find those key performance indicators (KPIs) that deliver a measurable engagement.