Social Strategies for Snips Collections
Posted on Jan 02, 2018
0 Comments
So you've viewed our tutorial and read our blog on creating Snips Collections, then created your own Collection of shoppable products. But with so many social networks and methods of sharing, how do you know where to begin? Here are the most effective ways to post Snips Collections on each social network in order to reach more fans, increase impressions, and earn revenue on each item in your collection.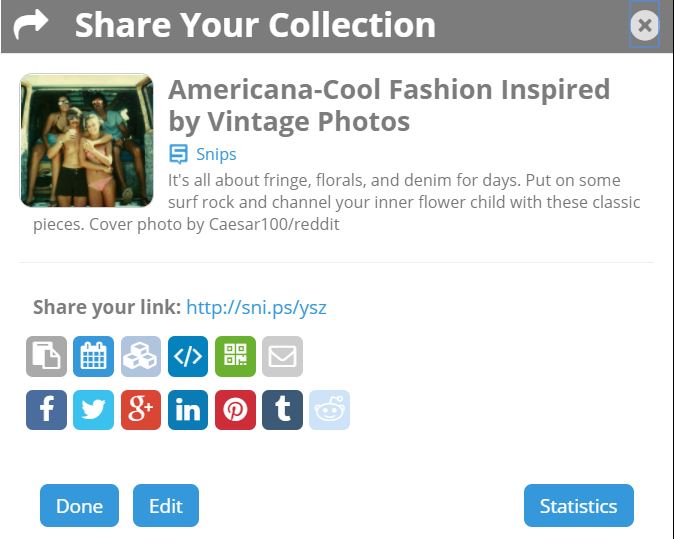 When you click the arrow to share your Collection, you'll see the above image pop-up. The unique Snips shortened link can be copied and pasted into any text field, which is useful for sharing on Instagram and Snapchat. Use the other icons to share your Collection on supported networks and apps with your preview image, title, and description.
Here's a run-down of how and where to use shortened links and previews on each of the major social media:
Facebook
Online shoppers are more likely to make a purchase through Facebook than any other social media (BigCommerce), so a Facebook page is one of the best places for influencers to share Snips Collections.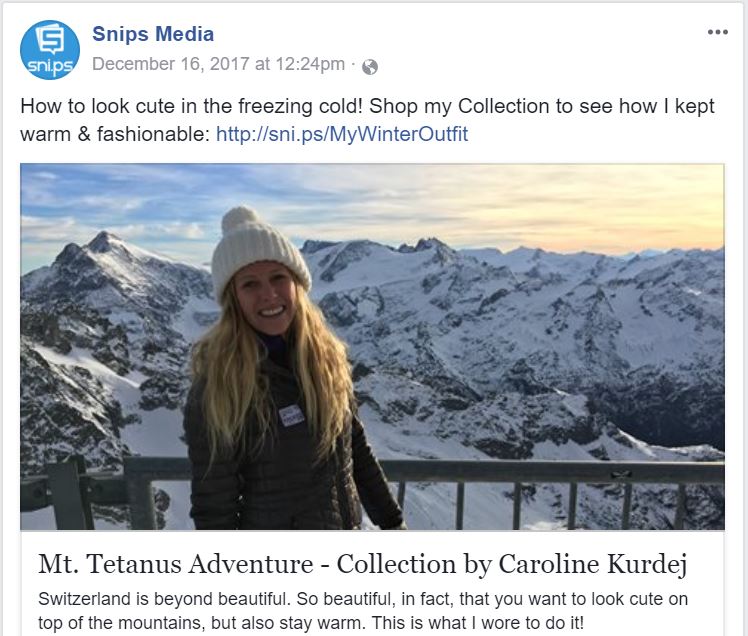 More than any other social network, the text that accompanies your Facebook post should speak directly to your followers and involve them in a story. Sharing your inspiration for the Collection it in your caption will give your fans a reason to engage.
Once your organic followers have had a chance to engage, boost your Facebook post to reach additional users outside your follower base. Be sure to target online shoppers who are interested in your niche!
Go Live! Don't be afraid to really engage with your followers on Facebook. Show your Collection to talk about each item and where and how your followers can buy it. Your followers can then watch along and leave comments. Pro Tip: If you have those items with you, show how they look in person and how you use/wear them.
Instagram
This social network is tricky because media must be uploaded directly from your phone (notice there is no Instagram icon on the Share Your Collection pop-up) and there are only a few places to insert clickable links on the platform. For the content, use the image/video from your Collection or screenshot your complete Collection.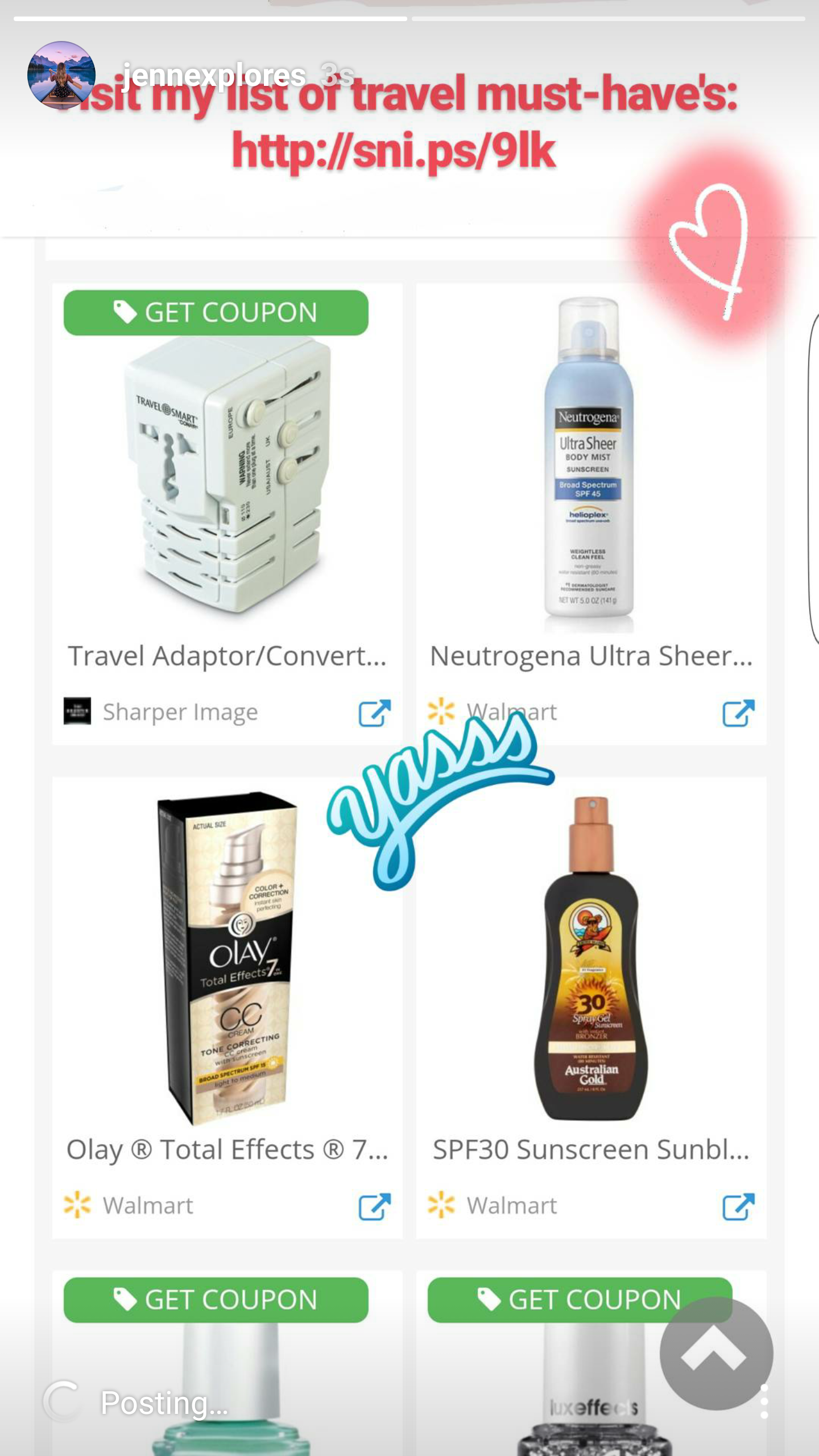 Make an Instagram post of your Collection. In the caption add in your title and description; you can also use your keywords as hashtags. Add your Snips shortened link in the caption or to your bio. Pro Tip: Give your link a memorable name where it is not clickable so your followers can type it into their browser.
For another IG post, go into more depth on each item in your Collection by using the carousel feature. Let your followers scroll through your Collection easily by uploading an image of each item in your Collection with the link in your bio.
Share it on your stories! Influencers with over 10k followers and registered as a public business account can add clickable links in their IG stories. Just upload your image and click the link button to add the shortened Collection link. Pro Tip: Write something like "Swipe up to shop my Collection of my favorite outfit/recipe/workout from this weekend."
Take advantage of the new story highlights feature. Just highlight your story so it stays visible on your profile beyond the normal 24-hour period. With this you can promote your Collection longer, which means a better chance to earn revenue from your followers' buys.
Snapchat
This popular social network also requires users to upload media directly from their phone, but clickable links can be added. For the content, use either the image/video from your Collection or a screenshot. Clickable links can be added with the paperclip icon to paste in your Snips shortened link.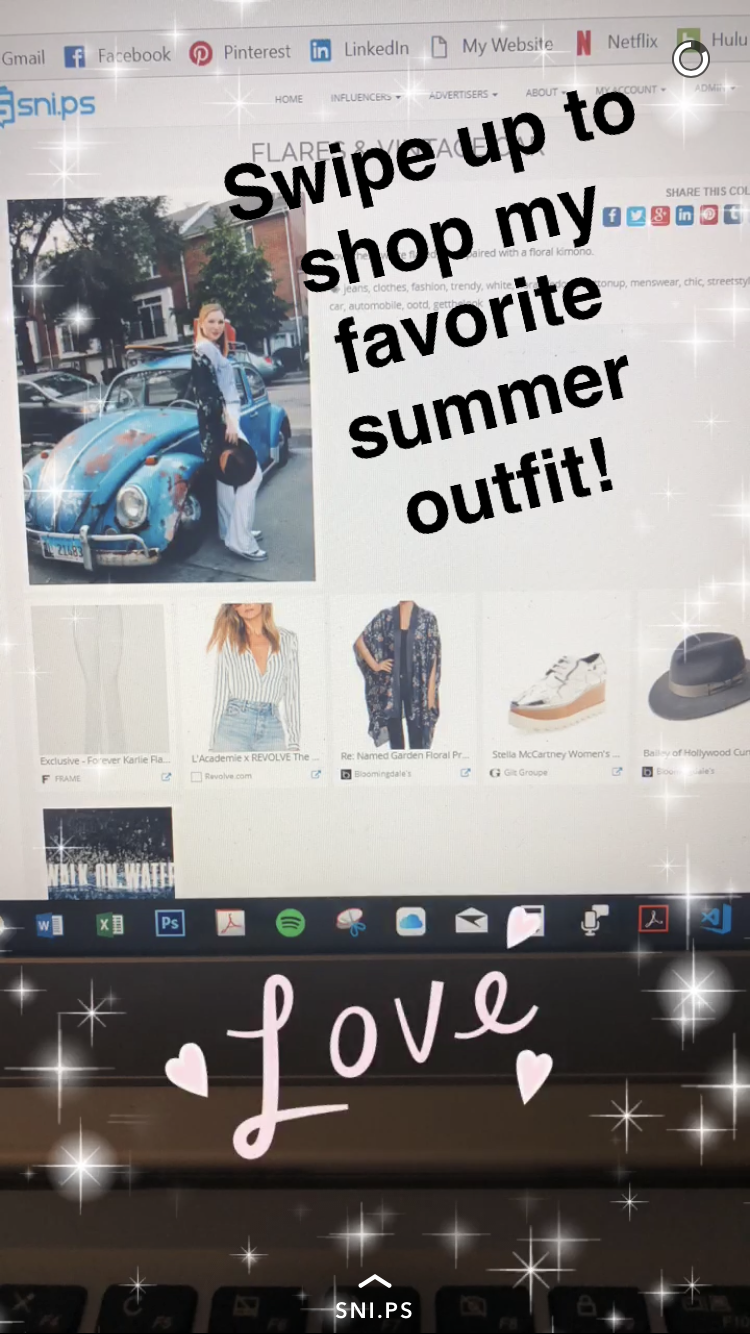 Create a Snap Story of your Collection with your attached link. Add in fun stickers, text, or filters to really grab their attention and direct to click the link. Pro Tip: Always keep your stories at 10 seconds or no limit so your followers can have time to read.
This is another good opportunity to highlight specific items from your collection. Create multiple stories to show each item and put stars around your favorites. Add in notes about special features or sizing and fit of the items.
We all know video gets better engagements on social. Use Snapchat videos in your story and include a personal message to your fans about why they should view your Collection. Pro Tip: Include a "Sneak Peek" video of your next Collection to come. For example, a new meal you're going to cook or outfit for an upcoming party.
Engage your followers individually as well. While this takes more time, it adds a personal touch. Direct Snap a few of your top followers to show them a closer look at your Collection. They'll feel the love and spend time to check it out and (hopefully) buy some items.
Twitter
Don't forget to tweet that awesome Collection of yours! Simply click the Twitter icon on the Share Your Collection pop-up. This will open up a new tweet with your Collection link and description automatically in the caption.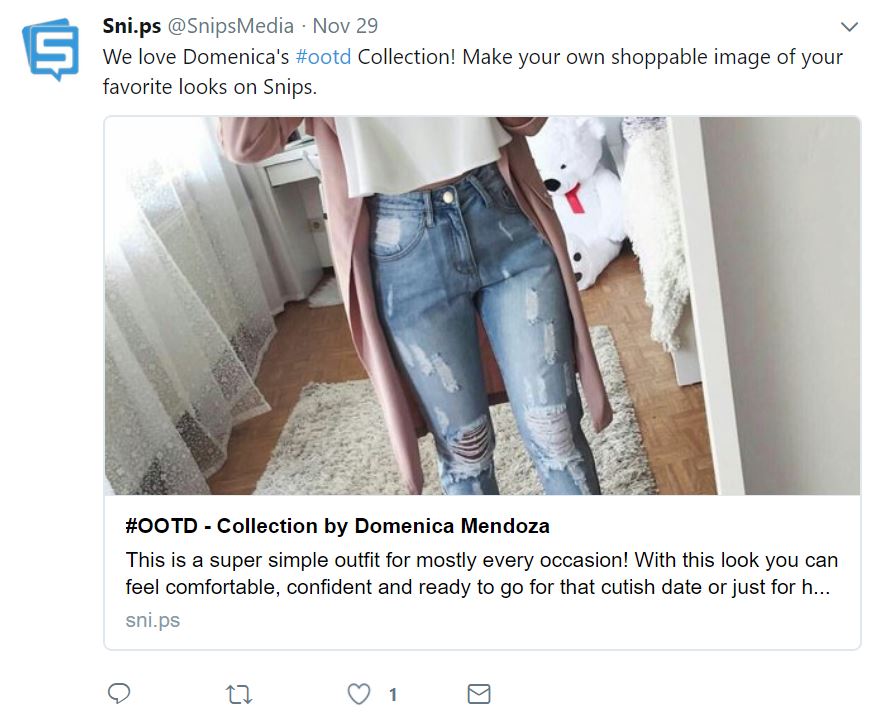 When sharing your Collection, customize your caption before sending it. Add in additional hashtags and a quick note to your followers. Be sure to direct them to click on the link to view all items and find out where to buy the items. You can also tag the brands you are featuring.
Send direct tweets or tag your followers who you know will be interested in your Collection. This creates a personal connection which will make them feel more inclined to purchase.
Collaborate with other influencers on a Collection and tag them in your tweet. Pro Tip: Create a Collection of all the items needed to throw a fancy dinner party and then collaborate with an influencer who creates a Collection of a fun outfit to wear to that party.
Pinterest
Pinterest users are on the network looking for tips and items to buy, so it's the perfect place to share your Collection. Sharing your Collection is easy, just click the Pinterest icon on the Share Your Collection pop-up.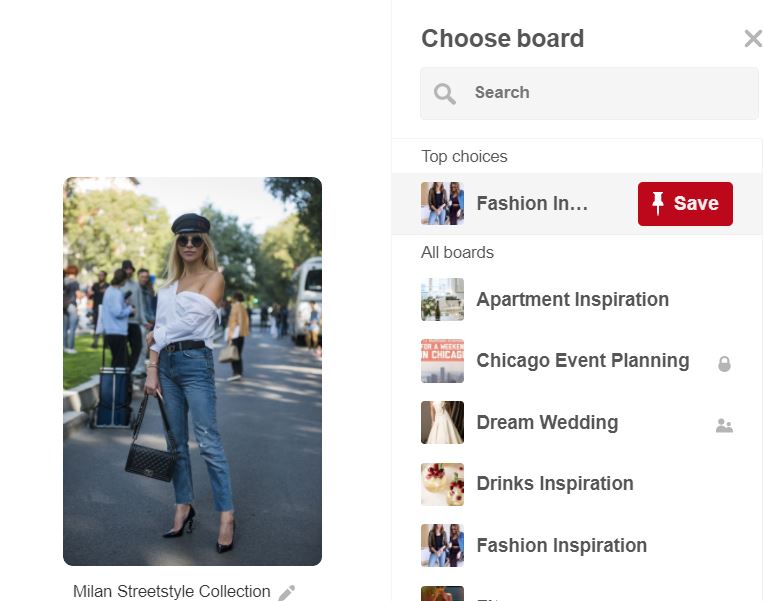 Share your Collection to an existing Pinterest board of yours that fits the category. Be sure to mention that your Pin is shoppable so users know to click through to your Collection!
Dedicate an entire board to Snips Collections. This creates a destination for your followers who want to shop. Create specific boards for your outfit, recipe, and workout Collections.
Make your own Pinterest widget of your Collection pin or board. This creates a preview of your Pinterest to direct your traffic from your other social media accounts. Pro Tip: Paste the widget on your blog.
Since Pinterest is mostly popular for their food and drink category, create a Collection of a recipe. Tag the food and kitchen items needed in your Collection with the recipe in the description and pin. Pro Tip: Tag shoppable items from Jet which offers fast delivery. That way your followers can copy your meal in no time.
Go Forth and Strategize
Now that you know how to use Snips Collections on the top five social media networks, you can integrate them into your content calendar. Use Snips Social Insights to see when and where your fans are already engaging, then use these tips to direct them to your Collections through social media. Soon they will gain their own impressions and revenue, leading to better insights and more successful campaigns!
Happy Snipping!