Monetize Your Social Media With Snips Trending News
Posted on Feb 19, 2018
0 Comments
Content is the key to building your audience and spreading your influence on social media. For influencers, content should be frequent and consistent, and it should educate, entertain, or inspire. This can be successfully achieved with a variety of organic, sponsored, and relatable evergreen content. Your social media strategy is what keeps your following growing and gets you those brand partnership deals.
Snips Trending News is a content discovery platform with thousands of real-time articles from top news sites and publications. Trending News puts real-time breaking news from around the world at the top of your feed. Our influencers can search thousands of articles across different publishers, categories, and keywords.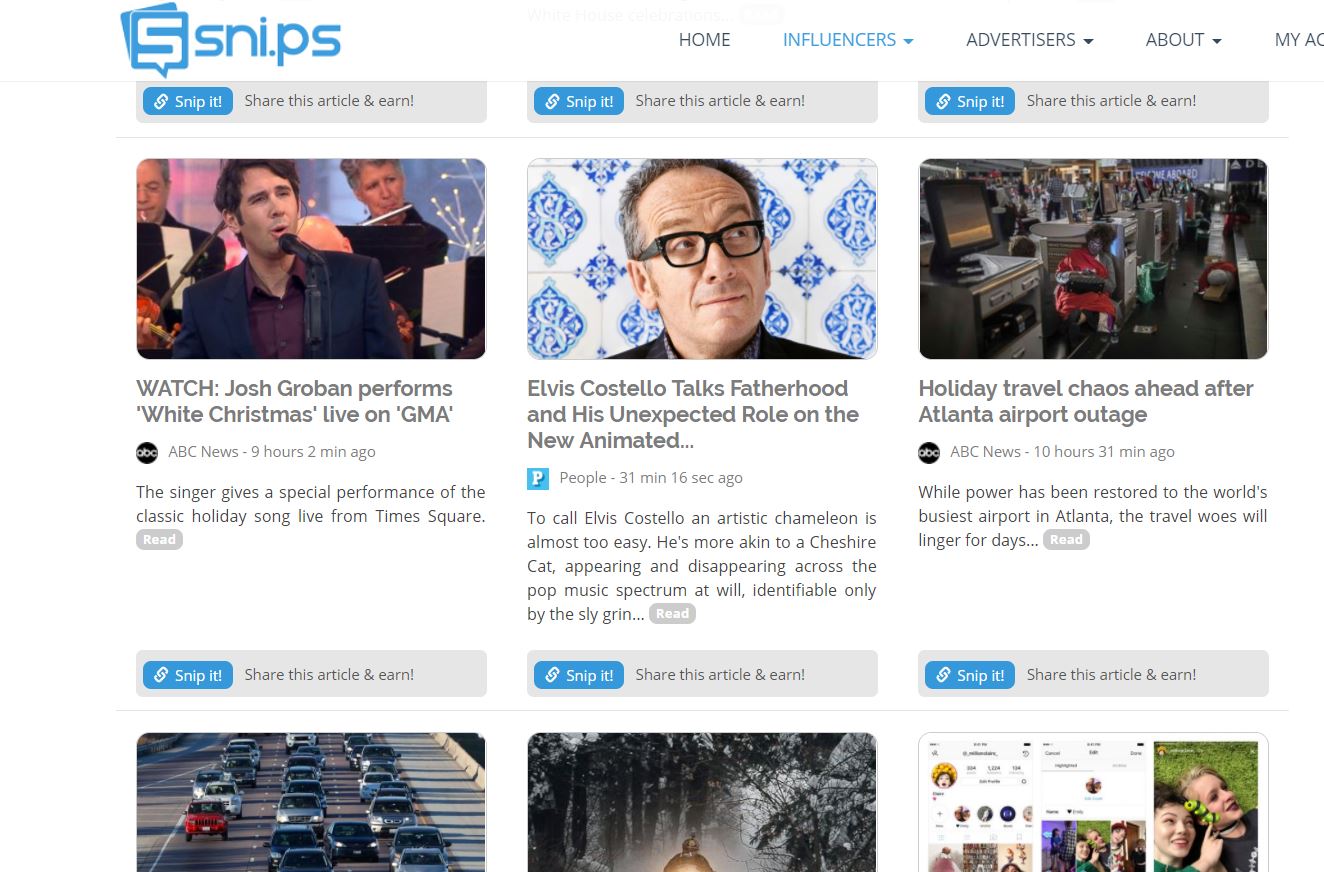 Give Your Sponsored Content a Rest
As an influencer, balancing organic content and branded posts is key to remaining authentic with your followers. Not every social media post should be with a sponsored brand. Sharing an article on a current news topic keeps your content relevant and fresh. This also gives you an opportunity to engage with your fans by sharing content to discuss and show you care about their interests. This all goes back to the purpose of your influence: to educate, entertain, and inspire.
Did We Mention You Can Make Money?
Trending News was created for influencers as a way of complementing their organic content strategy. Not only does it serve as a great way to engage your followers with organic content, you can also monetize it across your social networks. Through Snips, brands can sponsor your Trending News stories with Social Impact campaigns -- a short, targeted interstitial advertisement shown to your followers when they click to view your content. These campaigns are performance-driven, allowing you to earn on a cost-per-view pricing model. So the more engaging content you share, the more you can earn!
If you're worried about bugging your viewer with an ad, the short advertisement includes a "skip ad" option for those that aren't interested, and still be taken to your shared content. You can continue the work you already do while adding an earning capability to it. It's also super easy to do and takes very little of your time. It's a win-win!
How It All Works
Browse the categories or search by keyword to find great content to share with friends and followers.
Click the "Snip it" button to snip the link. You can also add a custom tag to make it more personal.
Share the link, along with your caption, on social media, websites, email, or anywhere else.
When fans click your post, a targeted Social Impact ad is displayed to viewers.
You earn revenue with each ad displayed to viewers.
Watch our tutorial on How to Snip and Share a link here.
Integrate Trending News into Your Social Strategy
Sharing Trending News articles on your social channels can be strategized throughout your existing content to match your aesthetic. You can see the "Trending Now" section on the lower right-hand side to see the current top trending articles. This can help you keep up with your followers by posting relevant news and trends. By sharing relevant news about your industry you are appear more intelligent in the topic and your other content earns more credibility. For example: A health and fitness influencer can better enhance their brand by sharing an article or research study about the benefits of drinking more water and working out regularly.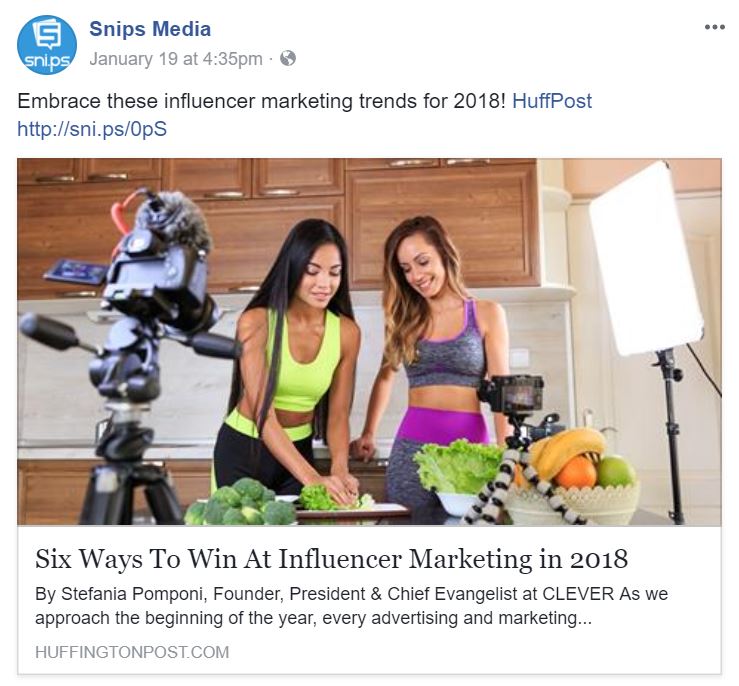 Above is an example of how we shared a Trending News article on our Facebook page to share content about influencer marketing that is relevant to our audience.
Once you start sharing content your "Recommended Stories" section on Trending News will become tailored to you and make it even easier to find content your followers will love. This content can be shared on any website, social media, email, or other digital platform. Twitter and Facebook make for great places to share articles and let your followers engage with one another. Don't forget that you can schedule your Trending News articles! Simply, grab your snipped links of the articles and create your posts in your Schedules section.
Track Your Results and Earnings
With each Trending News article you share you can view the statistics behind each snipped link in your Snips section. This can help you determine which articles and content categories are resonating the most with your audience. Each time you share a link you gain more insights of your audience of those who engage with your content. Sharing Trending News content helps build your Social Insights profile that gives you these deep insights and real-time data.
Enhance Your Content Strategy
Creating a balance between organic content and sponsored posts is often a challenge for influencers who want to be authentic and yet still earn a living. At Snips, we provide both organic and branded content for our influencers to share across their social networks, which they can monetize. By taking a break from sponsored posts and sharing organic content, you keep your fans engaged while remaining authentic and transparent.
Start sharing Trending News articles now: Snips Trending News