Healthy Stuffed Peppers Recipe (Ideal Protein Diet friendly)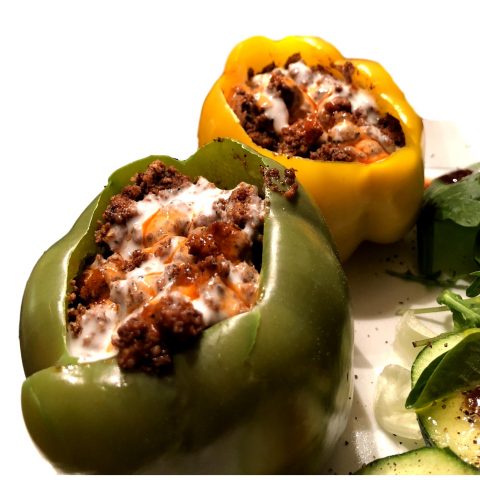 This low carb stuffed peppers recipe is both Keto and Ideal Protein Diet friendly! Keto Diets allow cheese, whereas the Ideal Protein Phase 1 diet does not.
Order now & get it delivered today!

---
INGREDIENTS
•
6 Bell Peppers
•
2 lbs Ground Beef, Lean
•
1 tbsp Cumin
•
2 tbsp Olive Oil
•
1 tbsp Hot Sauce
•
1 tbsp Minced Garlic
•
1 tbsp Minced Onion
---
DIRECTIONS
➊
Core Peppers, rinse and add to 5-6 qt pot.
➋
Fill pot with water just enough to cover the peppers and heat on stove until boiling and peppers become soft. Pepper will turn color when soft (approx 10-15 minute)
➌
While peppers are cooking, in a large skillet, heat the ground beef until browned and drain.
➍
Add skillet back to heat, add the minced garlic and minced onion.
➎
In small mixing bowl, add olive oil, hot sauce and cumin. Add mixture to ground beef and mix throughout the beef. Heat for 5 minutes to get spices cooked in.
➏
Scoop the beef mixture into the boiled peppers
➐
Drizzle Walden Farms Calorie Free Ranch or Walden Farms Blue Cheese Dressing. (If following diet, serving size is 2 tbsp, so if eating 2 peppers, use 1 tbsp per pepper)
➑
Drizzle additional hot sauce (optional)
➒
Serve with Lettuce and Cucumber salad for a low calorie meal
About
Snips is the first performance-based influencer marketing platform that empowers influencers with business tools to grow their audience and monetize their social networks, while enabling brands to run performance-driven influencer programs built on true measurability & scale.